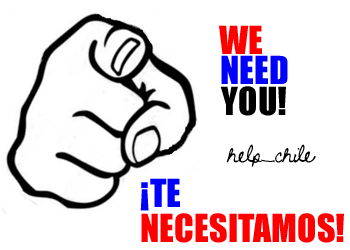 Join
|
Watch
for more info

FIRST ROUND WILL CLOSE ON FRIDAY 5TH AT 23:59 GMT.
PRIMERA RONDA CERRARÁ EL VIERNES 5 A LAS 23:59 GMT

CLOSED: SINGING UP FOR FIRST ROUND.
CERRADO: INSCRIBIRSE PARA LA PRIMERA RONDA.



Convocation to fanartist, fanfiction writters, and everyone with a talent who can share it and help!

If you write fanfictions, draw fanarts, make wallpapers or graphics, make fanmixes or anything that could be useful to raise money to help Chile, then sign up in this entry! This is going to ve very similar to help_haiti. Every artist decide how many donations can give and he/she has a place in help_chile to the auction of his/hers pieces of arts. You just sign up and tell everyone you know about it, and then the people do the rest of the job! The rules of the auction are going to be decided immediately after we have our artist.

So, do you want to help with your gifts?

Paste the following into the Comment window and fill in the non-optional spaces:



Via email the mods are going to arrange the starting bid of your offering, links where people can find more of your work, etc.

¡Convocación para fanartistas, escritores de fanfiction, y todos quienes tengan un talento para compartir y ayudar!

Si escribes fanfictions, dibujas fanarts, haces wallpapers o gráficos, haces fanmixes o cualquier cosa que pueda ser útil para recaudar dinero y así ayudar a Chile, ¡entonces inscríbete en esta entrada! Esto va a ser muy similar a help_haiti. Cada artista decide cuántas donaciones puede dar, y tendrá un espacio para el remate de su/sus obras de arte en help_chile. Solamente inscríbete y dile a todos los que conozcas al respecto, ¡y luego las personas hacen el resto del trabajo! Las reglas del remate van a decidirse inmediatamente después de tener nuestra lista completa de artistas.

Entonces, ¿quieres ayudar con tus talentos?



Por email arreglaremos los detalles del piso inicial de tu oferta, lugares donde las personas pueden ver tu trabajo, etc.